The first step to inspiration reboot? GET BACK TO THE HEART
SUMMARY: This is a new course from Design Kompany and Kismuth, a memoir project by DK co-founder (and DESIGN FOR POETS host) Dipika Kohli. DESIGN FOR POETS is about getting conversations started about what really matters, besides things like pixels and typefaces and rules. Please join our e-mail list to be informed of updates on what people say about our e-courses, and future installments.
What is DESIGN FOR POETS?
DESIGN FOR POETS is a two-week e-course designed to:
Inspire creative people who may be feeling uninspired
Remind ourselves of great poets' words
Refresh our love of design so we can
engage with love in projects of meaning.
WHAT YOU GET
Are you in a creative rut? Get unstuck in two weeks. Here's how.
Replenish your creative thinking muscles from the comfort of home
Connect with like-minded design professionals who also crave meaningful connection
Learn which poet is most your style
Build on that knowledge so you can create clearer, brighter design
Discover how to more acutely discern which freelancers you want to hire, when it makes sense
A new lease on how to enjoy the creative process all over again
Opening to a poet's handbook of new ways to see
A quick game:
Name the poet!
"Beauty is truth, truth beauty
That is all
Ye know on earth, and all ye need to know."
Who said that? Where did it come from? I'll e-mail you a poem each day, with the name of the poet and source the next day. (The first day I'll tell you who wrote the above! Just join DESIGN FOR POETS by registering below.)
I'll also seed a converation about what we might learn from it as design thinkers.
You may want to get a new notebook, and if you're a true design geek, some kind of fancy pen (My partner Akira has a $12 one that's orange, and  I have a couple of Muji notebooks hanging around from when we stocked up in Japan).
WHY THIS IS IMPORTANT
Without attending to the heart, we can't possibly make great design happen. This is a course designed to stir a new wave of enchantment, because that's what matters now.
About ten years ago, great design was about finding authentic voice.
Today, it's about heartwork.
And what is left that connects us all, throughout time, across humanity?
Poetry.
Let's examine this a bit together, in DESIGN FOR POETS.
WHO IS IT FOR:

DESIGN FOR POETS is for people who are, at heart, artists.
Do you enjoy the storytelling style of people who like to play with words, with the cadences and sounds, the lilt and color? This course is created to reinspire people who dream. People who love. But while doing both, look deeply and reflect thoughtfully on the substance of that which is there.
It's for philosopher-artist types. It's for those who like literature, but the really old books as well as what's popular and new. Poets. It's for those who think about big things because they have space to do so, or see art movies, or fall in love with the edge of a building against the sky because architecture is expression, too.
It's for us existentialists, who question why things are the way they are, and ask big questions. Things we wouldn't bring to some of our best acquaintances, or even our dearest friends, but that we'd talk about in a room of strangers at a getaway to Europe if the chance was there.
It's for people who like to look at the stars and be still for long periods of time. Introverts. It's for people who wonder, always, how can I do this better next timef? How can I realize my fullest potential? Because in the wondering, there's some daydreaming, and in that, there's new light.
DESIGN FOR POETS is for people who work in creative fields, but don't feel inspired anymore.
Sound familiar?
About 99% of the content you'll find is derived from eight years' worth of living the creative process as part of the two-person design studio Design Kompany. It will be hosted by Dipika Kohli (a poet at heart, secretly.)
ABOUT YOUR HOST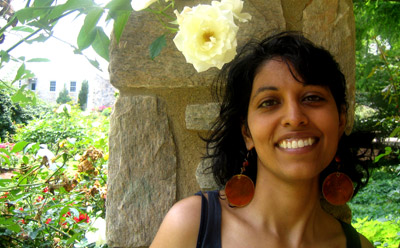 Dipika Kohli, one half of Design Kompany, was a journalist in both Ireland and Seattle. Now, she's writing daily for her memoir project, Kismuth. As a result of many conversations both about writing as well as design in recent months, she decided to create this e-course for people who love to explore, look, listen, and ask big questions about "what it all means."
DESIGN FOR POETS is an e-course. It's a two-week e-Course delivered to your inbox via daily e-mail lessons.
But it's also a conversation starter, and a way to connect with like-minded people. By far the best thing people who joined our last e-Course, STEER, told us was the feeling of connection with other participants in this way.
Here's what you'll get:
Carefully crafted e-magazine style conversation starters sent to your inbox daily for two weeks
Access to an online forum where you can meet other people, and engage with your host, for questions and sharing of your own words and thoughts
Someone who "gets" it when you say "design thinking"
Dozens of sources of inspiration that we've used at Design Kompany over the last eight years to help people rejuvenate
Find the nugget of love that drew you to creative work in the first place
A MONEY-BACK GUARANTEE
Now, the big question is probably, "But what if I don't like it?"
Two things. First, if you don't like what you see, in the first week you can let us know and we'll give you a 100% money-back refund. It's our guarantee that if you don't like it, and tell us the first week, we'll give you all your money back.
The second thing is this. We've been working with people for the last 15 years as a two-person consulting studio. (For the last 8 years we've been at DK full time.) Poetry books are commingled with ones on typeface here on the shelves of DK, and we'd like to share our favorites, and the feelings they inspire in our work and approach to design.
When did design get so stuffy, anyways?
Let's get back to basics.
Emotion. The human heart.
Please join our e-mail list to be informed of updates on what people say about our e-courses, and future installments.
OUR E-COURSES
Conversations through our e-Courses are happening through this new medium across international datelines, a broad range of ages, and a wide mix of industries.
The thing everyone has in common? A desire to open our hearts. Get somewhere that matters. And an openness to being vulnerable, at least enough to take a chance on something that just might change their lives.
Ready to get started?
So are we!
Dipika Kohli & Akira Morita
Co-founders, Design Kompany
Yes! Send me previews and updates.
WHO is Design Kompany? Accolades and Awards
Akira and I have been working at DK for the last 15 years on one thing, and one thing only:  helping people figure out who they are.
Some accolades:
When we set out to work with DK, I did not expect the level of passion, commitment, and rigor that Dipika and Akira brought to the creative process. They pushed us to think big and zero in on the meaning and contribution our organization uniquely brings. While some design teams are truly (and exclusively) artists, DK brought business savvy to the table, understanding the value of knowing your customer and building your branding and communications around them and your core value. They were tireless in delivering a high quality product. Where some designers would have said, "good enough," DK doubled down to produce something magical. —Sarah Kate Fishback, Green Plus, Durham 2011
Money well spent! Thanks again for such terrific work. It all looks great! The envelopes look especially cool, really eye-catching and novel. Cheers all around and thanks for the millionth time. —Michael Salewski, Hindsight, Seattle 2010
Setting out to launch a new organization, our board and staff were appropriately all over the map about what we'd call it. Design Kompany gave us synergistic tools to get us all to the same place and of the same mind. We wouldn't be who we are without Design Kompany's expertise and facilitation. —David Yeaworth, Allied Arts of Seattle, 2008
"That's a big statement."
We design identities.
More accurately, we help people figure out what they want to say to the world with the legacy they want to leave. And be intentional about that.
When you are just following advice of others, and coasting along … when you let others decide what your goals are … when you aren't steering, you aren't being intentional.
"You design legacies?" a new acquaintance asked me one day in a cafe. "That's a big statement."
"It is," I said.
But then, I added this part: "It's never too early or too late to start being intentional about what you do. About living a life that starts with being authentic, and true to yourself."
Granted, DESIGN FOR POETS isn't for everyone.
If you feel very comfortable where the creative work you're doing and you're totally inspired, you don't need DESIGN FOR POETS.
If you feel like you've got all the community you need when it comes to dialogue on art and bigger-than-this-gig kinds of connections, you don't need DESIGN FOR POETS, either.
But if you're wondering if there's a way to inch even a little closer, or maybe a LOT, to that ultimate goal of working in a way that is truly inspired, this is for you. If you are a curious person looking for questions to ask of yourself, not the ready-made answers that you can pick off the shelves… you will absolutely love this course.
Most people who've gone through Design Kompany's process come away with something far more valuable than they ever imagined when they looked at our portfolio to see our design work.
They came away FOCUSED.
They knew, at their very core, who they were. Why that mattered. The big stuff. They worked with us to get there. And together, these individuals and the companies they work for have spent tens of thousands of dollars to tap the well that is their inspiration source here at DK.
I'm not going to pretend it's going to change you. That's up to you to do. But it will inspire. That, I can promise. Make a commitment to your inner artist. Sign up to get updates about  DESIGN FOR POETS today.
Get fresh updates on DESIGN FOR POETS